So, you've made the first step and decided you want to see if LASIK eye surgery is right for you. That's great! Your next step is a consultation; however, not all LASIK facilities – or the exams they perform – are the same, so doing your research will help you make an informed decision. After all, your vision plays a crucial role in your life. To get you started, here's key information on what to look for in a LASIK provider, how candidacy is determined, and what to expect at a LASIK consultation in Kansas City. 
Choosing a LASIK provider
When considering laser vision correction, choosing a surgeon is one of the most important decisions you can make before scheduling a LASIK consultation in Kansas City. Each surgeon's experience and approach to patient care is unique, so doing your research will ensure you are confident in your decision to move forward. We've identified a few key qualifications to consider when choosing a LASIK provider.
Experience
There is no substitute for experience when trusting a surgeon with your vision. The doctors at Durrie Vision have performed over 65,000 procedures combined and have been involved in over 200 FDA clinical trials. During your consultation at Durrie Vision, you'll meet directly with one of our surgeons to discuss the exam results and any recommended treatment plan. Who could be a better resource than the person who would be performing your procedure? This one-on-one time provides an additional level of expertise not available at a screening or exam performed by an optometrist or refractive technician.
Options beyond LASIK
While LASIK is one of the most trusted and common elective eye surgeries performed today, there are in fact several different vision correction procedures available. Seeking out a facility that specializes in all the different forms of modern laser vision correction ensures you're recommended a treatment plan designed specifically for your unique visual demands and lifestyle.
 At Durrie Vision, we subspecialize in vision correction surgery, and we're the only facility in the region that offers seven forms of vision correction procedures.
Technology
Both the diagnostic and treatment technology play a vital role in the safety and efficacy of a procedure. A facility with limited diagnostic testing may not be able to identify underlying eye issues that could affect healing and/or outcomes. The cutting edge diagnostic technologies used at Durrie Vision provide a highly detailed 3-D view of the entire eye and key measurements needed to recommend the best treatment plan for you.
 With seven procedures offered, Durrie Vision also has the most advanced combination of laser platforms and treatment technologies available today. Multiple technologies allow our surgeons to further customize the procedure for you.
Reviews
What do others have to say about their experience with the surgeon and their results? Do your research, ask for referrals, and read real patient reviews. Durrie Vision prides itself on delivering a first-class patient experience through every step of the process. 
Who is a candidate for laser eye surgery?
With multiple forms of modern vision correction available, options exist for a wide range of refractive errors and visual needs. However, misconceptions and outdated information have led many people to falsely assume laser vision correction is not a possibility for them. Two common themes we hear from patients:
 (1)  My optometrist told me I'm not a good candidate for LASIK. 
The facts: While optometrists are excellent at fitting you for glasses or contacts as well as conducting regular annual eye exams, only an ophthalmologist who specializes in refractive surgery can perform the diagnostics necessary to both evaluate your candidacy for laser vision correction and identify any underlying eye issues that might affect your outcomes.
(2)  I had a LASIK screening at another facility and they told me I wasn't a candidate. 
The facts: If a facility only focuses on LASIK surgery, that's the only option they have for you. Results will be limited to either "yes, you're a candidate for LASIK" or "no, you're not a candidate for LASIK." As a result, you may not know to seek out alternative surgical options—because you wouldn't even know they existed.
Our Advanced Ocular Analysis (AOA) takes a basic screening to the next level. We extensively examine your eyes to design a treatment plan customized to your needs. (We'll detail the tests we use during our AOA a bit later.) As a result, very rarely do we completely turn a patient away. With seven different procedures available, there's typically an option (even if it's not LASIK) that will help you achieve better vision without glasses or contacts.
Below are a few of the most common factors that could affect your candidacy for vision correction surgery.
Age
You must be at least 18 years old to get LASIK or any other vision correction surgery. By this age most people with nearsightedness, farsightedness, and astigmatism have typically reached ocular maturity, a stage when vision is considered stable.  If you're under 18, keep using your contacts and/or glasses as your eyes may continue to change or shift through adolescence.
 There is not an upper age limit to laser vision correction, however beginning in our mid to late 40s, changes in the internal lens of the eye lead to a decrease in near vision (presbyopia), which continues to progress before ultimately developing into a cataract. Depending on your particular vision and lifestyle, these changes you may to address the issue using either Blended Vision LASIK in which one eye is treated for near and one for distance, or with a lens procedure such as Refractive Lens Exchange or Refractive Cataract Surgery.
Corneal shape and thickness
LASIK improves your vision by changing the shape of your cornea. Therefore, corneal thickness and corneal scarring due to contact lenses or previous eye surgery play an important role in determining your candidacy for LASIK or an alternative procedure. During the consultation, one of our surgeons will measure the thickness of the cornea to ensure there is enough tissue for the desired amount of correction and design a customized treatment plan based on these measurements.
Prescription strength
With today's advanced laser technology, LASIK is able to treat high levels of nearsightedness, farsightedness, and astigmatism. However, for those with extreme nearsightedness (-10 or more), there is often not enough corneal tissue available to accommodate the correction needed. In these instances, a Phakic IOL procedure may be a great alternative. 
 It can be easy for someone to assume they're not a candidate or "diagnose" themselves based on the information above. However, only an ophthalmologist who specializes in refractive surgery can evaluate your eyes and determine whether a procedure is right for you.
How to prepare for your LASIK consultation in Kansas City
Prior to their consultation, contact lens wearers will need to remove their contact lenses according to the guidelines below. Contacts can temporarily distort the shape of your corneas when using them on a daily basis. Removing the lenses gives your corneas time to return to their natural shape, allowing us to get the most accurate measurements.
 The type of contacts you wear will determine when you should stop wearing them:
    Soft contact lenses: three days before your consultation
    Toric soft: at least one week before your consultation
    Hard or rigid gas permeable (RGP) lenses: at least three weeks before your consultation
You'll also want to come prepared with your questions about the procedure and the doctors performing it to make sure you get the best results in the safest environment.
Some questions you may want to consider asking during your LASIK consultation include:
∙ How much experience do you have?
∙ Is LASIK safe?
∙ How long will the procedure take?
∙ What kind of results can I expect?
∙ What are the risks?
∙ What happens if I'm not qualified?
At Durrie Vision, we pride ourselves on educating each patient about how the eye works, their unique vision issues, and what a surgery would do for them. As a result, many patients find that we answer all their questions (and then some) before they get the chance to ask.
 During your LASIK consultation, make sure you're ready to talk about your medical history (especially conditions such as diabetes that could affect healing), your hobbies/interests, current medications, and your goals and expectations.
---
The LASIK consultation process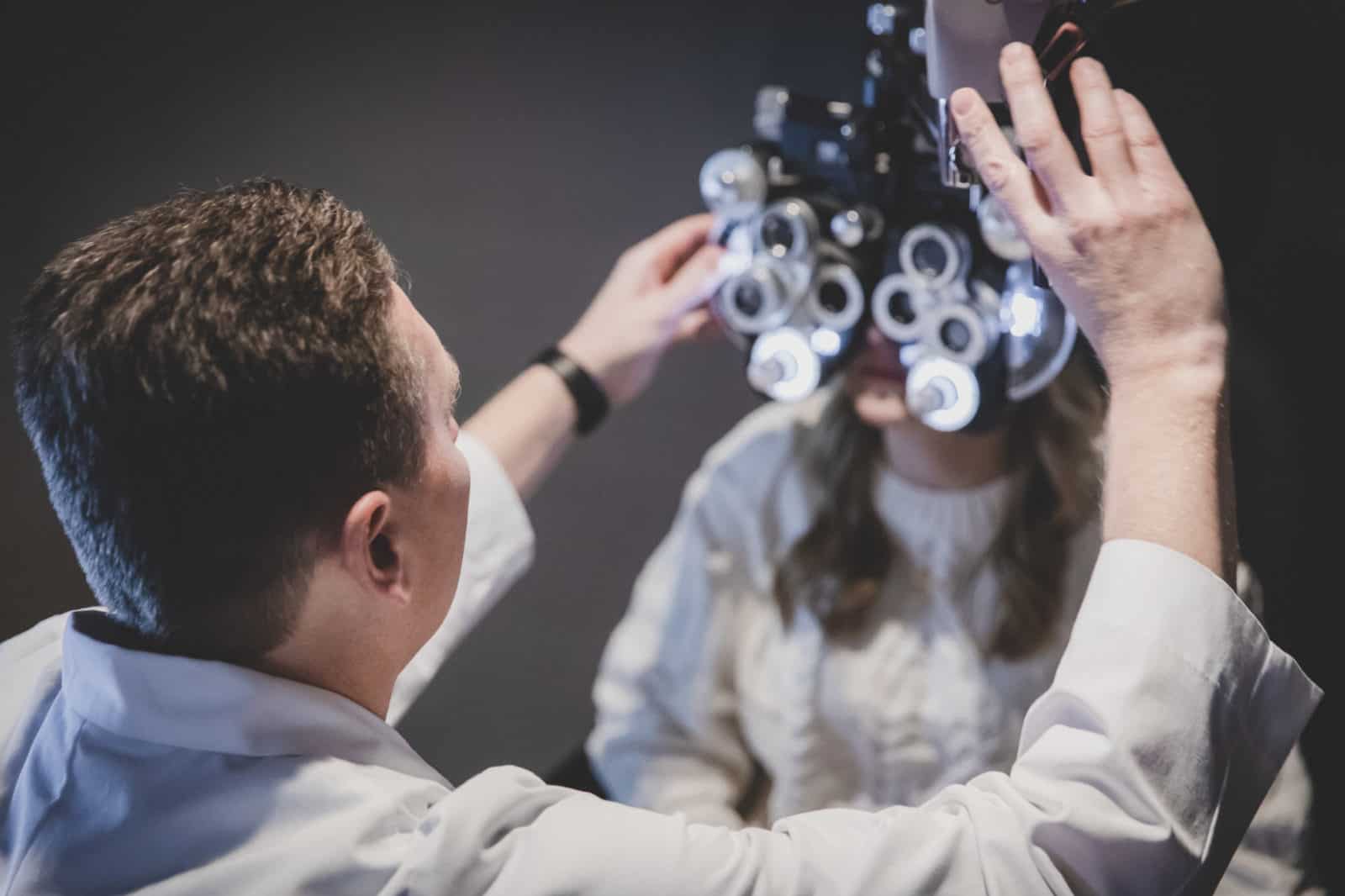 Remember, at Durrie Vision our Advanced Ocular Analysis goes beyond the traditional LASIK consultation in Kansas City. With us, your consultation is an in-depth process that will help your surgeon determine which laser vision correction procedure is your best option. We use the most advanced diagnostic testing available today, and our cutting-edge technology provides 3-D images of your entire eye.
Because of the detail that goes into this appointment, you'll want to plan to be with us for an hour and a half. After all, surgery is a big deal, and you want to make sure your eyes are treated with the utmost care and preparation. Your eyes will be dilated during the exam to allow for precise measurements. While most are able to drive following dilation, a pair of sunglasses is recommended to offset any light sensitivity.
Diagnostic tests
The main reason our AOA and consultation takes time is because we will perform a variety of tests and measurements to determine which procedure will give you the best results. And believe us when we say, a majority of our patients are surprised at just how in-depth we go—it's definitely not your average eye exam!
 Why?
 The answer is simple. We aren't just screening your eyes for LASIK, we're examining your eyes to see which procedure and technologies are best and safest for you, and that requires much more than a simple test.
Our AOA is a combination of the most advanced diagnostics in one exam. These diagnostics include:
∙ Refraction
∙ Corneal mapping
∙ Eyelid gland structure and tear film analysis
∙ Retinal and macular imaging
∙ Crystalline lens evaluation
∙ Endothelial cell count
∙ Optical quality assessment
∙ Glaucoma screening
∙ Optic nerve analysis
∙ Intraocular pressure measurement
Eye-surface testing
Having and maintaining a healthy tear film plays a critical role in the healing process after the procedure. Tests we perform during your consultation measure the volume and tear film composition to ensure your eyes are healthy enough for surgery or identify any issues that may need to be addressed before moving forward.
 What we use:
LipiView
The LipiView analyzer allows us to assess your meibomian glands (the glands in charge of tear stabilization).
Front-of-eye testing
Since corrective eye surgeries either alter the shape of your cornea or treat lens-derived vision problems, corneal and lens evaluations are vital components of the exam. High-resolution scans give a detailed glimpse at your cornea and the lens right behind. In fact, we can get so precise, we can see and evaluate your eye tissue at a micron level!
With these scans, our surgeons gain access to images to help them evaluate the shape of your corneas, the tear film on your eye's surface, the health of your eyelids, early signs of cataracts, and more.
What we use:
Specular Microscopy
Modern specular microscopes provide a visualization and analysis of the layer of the cornea vital for maintaining long-term visual clarity and corneal health.
Lens Densitometry
Measures and tracks changes in lens density. Left untreated, the progressive changes in the lens ultimately lead to cataract formation, making early detection a key consideration in your Lifetime Vision Plan.
Pentacam® – Corneal Topography System
The Pentacam® digitally maps the surface of the cornea and its underlying layers, providing vital information to maintain long-term visual clarity and corneal health.
With precise measurements of the shape, structure, and thickness of the cornea, we're able to determine not only which procedure is best, but also further customize that procedure by selecting the technology and techniques best suited for you.
Back-of-eye testing
During your AOA, we'll also examine the health and function of your retina. Remember, LASIK changes the corneal issues that lead to refractive errors. If you have previously had or currently have retinal conditions such as retinal detachment, we may suggest alternative solutions or refer you for treatment with a specialist prior to surgery.
What we use:
Retinal Camera
Also called a fundus camera, our retinal camera captures a digital image of the retina to identify any retinal abnormalities that may be present.
Full ocular imaging
Ocular imaging gives us a full picture of your eye health. With advanced technology, we can see even the smallest details of your eyes, allowing us to tailor a procedure to your needs.
What we use:
HD Analyzer
Using simple light rays, the HD Analyzer measures the effects of ocular scatter on total vision. We use the data for early cataract diagnosis, dry eye diagnosis, and to improve outcomes following a refractive procedure.
Optical Coherence Tomography
With a resolution millions of times more precise than CT or MRI, our optical coherence tomography allows us to see the internal structure, including individual cells and tissue layers. This allows us to look for potential vision issues that even a microscope could not see.
Final analysis and results
Based on your results, your doctor will determine whether you're a candidate for LASIK or another laser vision correction procedure. (If LASIK isn't ideal for you, don't worry! There are alternatives that may be better suited to your vision and individual needs.) 
I'm Not a Candidate for LASIK, Now What? →
You'll also get important information to help you prepare for your procedure. Below is a list of general information you'll receive after your AOA and LASIK consultation in Kansas City.
Cost and financing information
While cost varies by procedure, our pricing is transparent and inclusive of all exams and enhancements (if necessary) during the outliend post-operative period. We pride ourselves on customizing each procedure to the unique patient, and do not believe in hidden fees or upcharges based on prescription strength or technology used. 
During the consultation, one of our knowledgeable patient counselors will discuss pricing and financing options to make your procedure more affordable and budget friendly. 
As a bonus, laser vision correction procedures are approved expenses under most Flexible Spending and Health Savings Accounts, which allow you to set aside tax-free money for your vision correction procedure.
How to prepare for surgery and post-operative recovery
At Durrie Vision, we always make sure our patients are thoroughly informed about what to expect before and after their procedure. At your consultation, our experienced team will outline pre- and post-operative instructions and restrictions, medications needed, and expected healing time. They will also walk you through your scheduling options for surgery and follow up appointments. 
Schedule your LASIK Consultation in Kansas City with Durrie Vision
Learning what to expect at a LASIK consultation is your first step toward better vision. At Durrie Vision we understand that correcting your vision is a life-changing decision. That's why we ensure a great experience every step of the way. 
From your first LASIK consultation all the way to your post-procedure exams, you're always our number one priority. 
With us, your LASIK consultation goes beyond the norm. Thanks to our Advanced Ocular Analysis (AOA), you get the most advanced combination of diagnostic testing available. 
Don't settle for an okay procedure; you deserve the best LASIK procedure in Kansas City. 
Schedule your consultation today or contact us with questions you have.